While I was Sleeping My home Flooded.
3/18/2022 (Permalink)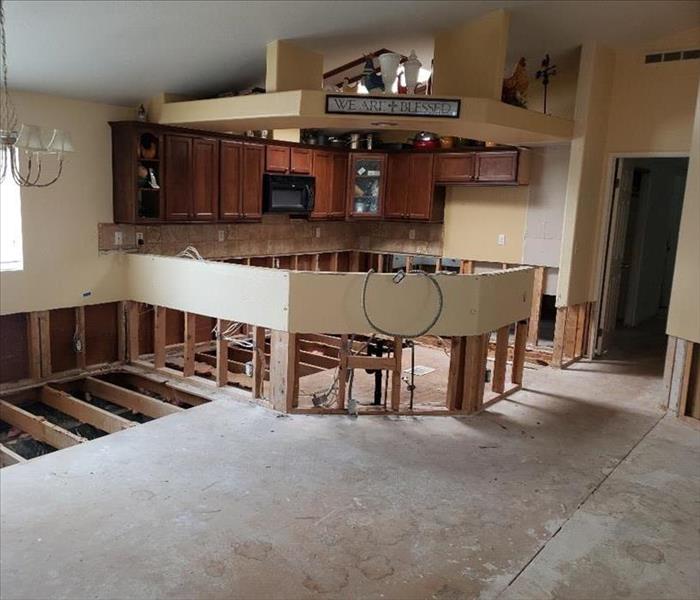 SERVPRO of Highland / N. Redlands is a 24/7 company. Always ready to help you when you most need it.
"When I woke up this morning there was water everywhere," Mrs. Joyce, the homeowner explained to us when we arrived at the scene. Her dishwasher gasket seal broke during the night and caused huge water damage throughout her entire home. Thankfully she knew what to do. She said this wasn't her first rodeo. Mrs. Joyce experienced something similar several years ago unfortunately. SERVPRO of Highland / North Redlands is the first company that came to mind. It's funny how you see these things happen in movies with the soapy water coming out and everyone is laughing. Unfortunately, it's not the same in real life. Due to the water damage, Mrs. Joyce's entire kitchen and living areas had to be torn out. SERVPRO of Highland / North Redlands quickly went into action. They stored her belongings in containers to keep them clean during the demolition and reconstruction phase of the job. All damaged walls, cabinets, carpets and tile were removed. SERVPRO ensures to work fast and efficiently. After the home was cleaned out, we set our industrial strength dehumidifiers and air blowers. This will prevent mold and harmful bacteria from forming. Once everything is cleared and dried, we proceed with reconstruction. When water damage happens to your home Call SERVPRO of Highland / North Redlands to help make things look "Like it never even happened."